Christian History Tours
Tour Information:

---
Tours of Washington, DC, Williamsburg, Jamestown, Charlottesville, and Sites in Virginia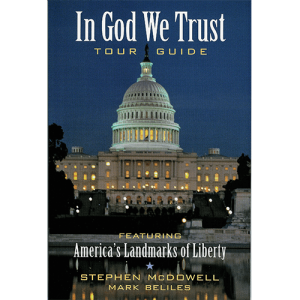 We may be able to provide your group with a guide to present the Christian history of historic sites in Washington, DC, and Virginia. We do not provide logistics for the tours, but can provide suggestions for an itinerary. Sites and length of the tour can vary. Contact us if you wish to learn more.
To join a Christian history tour group with people from throughout the United States, see below (Tours with American Family Radio).
For a self-guided Christian history tour see our book, In God We Trust.
Click to read a sample from our book In God We Trust Tour Guide
For questions or more information call 434-978-4535 or via email: info@providencefoundation.com.
______________________
Tours with American Family Radio
Join Us for a Christian History Tour
Are you looking for a tour that will help you capture the deep, rich, Christian heritage of our county and the people who founded it? If you are, then the Spiritual Heritage Tour that Stephen McDowell does with American Family Radio is for you.
Click to Learn more: Experience America's Christian Heritage on our DC/Mount Vernon or Williamsburg Tour.